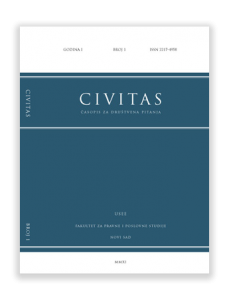 COBISS:
SR-ID 261516807
ISSN: 2217-4958
---
13 -Zolna Feher, Anja Mitić i Veljko Đurić - ŽIVOTNI CILJEVI I SREĆA KAO KORELATI ŽELJE ZA SLAVOM
30 -Vladimir Njegomir - MARKETING IN INSURANCE: THE IMPORTANCE OF EFFICIENT INSURANCE CLAIMS MANAGEMENT
40 - Tatjana Glušac i Vesna Pilipović -MEĐUSOBNO OBUČAVANJE KOLEGA KAO OBLIK AKCIONOG ISTRAŽIVANJA: PRIPREMLJENOST I STAVOVI NASTAVNIKA ENGLESKOG JEZIKA
57 - Zorica Knežević i Vesna Petrović - KVALITATIVNO ISTRAŽIVANJE FENOMENA INTEGRACIJE U INTEGRATIVNOJ PSIHOTERAPIJI
70 - Miroslav Milosavljević i Jelena Milosavljević - PRESTANAK PRIVREDNOG DRUŠTVA PUTEM LIKVIDACIJE
87 - Vera Zelenović i Nedeljko Babić - MERDŽERI I AKVIZICIJE U BANKARSKOM SEKTORU – SLUČAJ REPUBLIKE SRBIJE
111 - Gojko Šetka i Dragomir Jovičić - NAČELA KRIVIČNOG I PREKRŠAJNOG POSTUPKA ZA POSTUPANJE POLICIJE REPUBLIKE SRPSKE
127 - Zoran Grbić - "MUSLIMANSKA BRAĆA" - TERORISTIČKA ORGANIZACIJA ILI NE?
144 - Savo D. Marković - KAZNA BEŠČAŠĆA U RIMSKOM PRAVU
163 -Marko Krstić - ANGEL RABASA, STACIE L. PETTYJOHN, JEREMY J. GHEZ, CHRISTOPHER BOUCEK (2011). DERADIKALIZACIJA ISLAMSKIH EKSTREMISTA.
---
ANGEL RABASA, STACIE L. PETTYJOHN, JEREMY J. GHEZ, CHRISTOPHER BOUCEK (2011). DERADICALIZING ISLAMIST EXTREMISTS