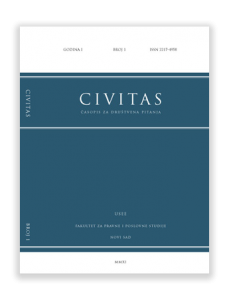 COBISS:
SR-ID 261516807
ISSN: 2217-4958
ISSN: 2466-5363 (on-line)
---
Dear Readers, Colleagues, and Authors,
Welcome to the first issue of the CIVITAS Journal for 2023.
For the past 13 years, the CIVITAS journal has published articles focusing on various current developments and topics related to law, security, psychology, philology, and economics, as well as interdisciplinary research involving the above fields.
In 2021, the journal was awarded the M51 ranking by the Serbian Ministry of Education, Science and Technological Development, and classified as a leading national journal.
The journal has been indexed in the ERIH PLUS academic journal index for the HSS (Humanities and Social Sciences) society in Europe, in CNKI (China National Knowledge Infrastructure), Ulrich's Periodicals Directory, J-Gate (Indian database for e-journal literature), and CEEOL (Central and Eastern Europe Online Library).
The articles accepted for publication deal with a variety of issues related to social sciences and humanities, ranging from the neurobiological changes in the process of regression therapy treatment, development and verification of the questionnaire for the assessment of self-identity status SID48, the level of development and defining the development criteria of smart cities, compensation for non-material damage, post-communist lustration justice, digital literacy, determinants of entrepreneurship, the concept of individual and religious freedom in More's Utopia, as well as the notion of desire in Jacques Lacan and its articulation in the film Repulsion.
The information about the journal, instructions for authors and reviewers, editorial board members, and reviewers' names and affiliations are available on the journal website in Serbian and English.
The articles may be submitted via the journal web page http://civitas.rs/index.php/prijava-rada or via email to redakcija@civitas.rs On behalf of the Editorial Board and myself, our sincere thanks to all the authors and contributors for the high quality of the articles in this issue.
Hoping that this issue will inspire further research, we invite all interested researchers to submit their articles for publication in CIVITAS.
Until the next issue,
Professor Vladimir Njegomir
Editor-in-Chief
Novi Sad, 10. July 2023
Sanja Bunford - NEUROBIOLOGICAL CHANGES IN REGRESSION THERAPY PROCESS
Aleksandar Vasić - CONSTRUCTION AND PSYCHOMETRIC EVALUATION OF THE EGO-IDENTITY STATUSES QUESTIONNAIRE SID48
Otilija Sedlak, Tibor Fazekaš, Aleksandra Marcikić Horvat, Boris Radovanov, Dragan Stojić, Reka Korhec - MEASURING DEVELOPMENT LEVEL AND DEFINING CRITERIA FOR RANKING SMART CITIES
Tanja Kaurin, Dragan Mijović, Aleksandar Bošković, Nikola Milosavljević - DIGITAL LITERACY AS A SEGMENT OF DIGITAL PSYCHOLOGY- EMPIRICAL SKILLS ANALYSIS
Petar Marković - LACAN'S CONCEPT OF DESIRE AND ITS ARTICULATION IN ROMAN POLANSKI'S FILM REPULSION (1965)
Milica Z. Petrović - NON-MATERIAL DAMAGES DUE TO WRONGFUL CONVICTION AND UNLAWFUL IMPRISONMENT IN COURT PRACTICE
Vladimir Njegomir - STARTING AN ENTREPRENEURIAL VENTURE- A STUDY OF DETERMINANTS
Tatjana Dumitrašković - THE CONCEPT OF INDIVIDUAL AND RELIGIOUS FREEDOM IN MORE'S UTOPIA
Tijana Perić Diligenski - POST-COMMUNIST LUSTRATION JUSTICE
INVITATION AND INSTRUCTIONS TO AUTHORS