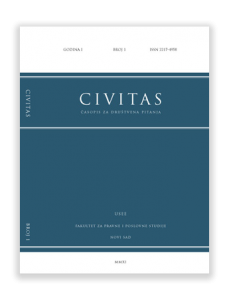 COBISS:
SR-ID 261516807
ISSN: 2217-4958
ISSN: 2466-5363 (on-line)
---
Dear Readers, Colleagues, and Authors,
Welcome to the second issue of the CIVITAS Journal for 2022.
For the past 12 years, the CIVITAS journal has published articles focusing on various current developments and topics related to law, security, psychology, philology, and economics, as well as interdisciplinary research involving the above fields.
In 2021, the journal was awarded the M51 ranking by the Serbian Ministry of Education, Science and Technological Development, and classified as a leading national journal.
The journal has been indexed in the ERIH PLUS academic journal index for the HSS (Humanities and Social Sciences) society in Europe, in CNKI (China National Knowledge Infrastructure), Ulrich's Periodicals Directory, J-Gate (Indian database for e-journal literature), and CEEOL (Central and Eastern Europe Online Library).
The articles accepted for publication deal with a variety of issues related to social sciences and humanities, ranging from the associations between personality traits and perfectionism as predictors of attitudes towards organizational change, dispositional mindfulness as a mediator between neuroticism and worry, tension and lack of joy, to economic efficiency, public debt sustainability in Serbia during the COVID-19 pandemic, work outside the employer's premises, restrictions of property rights during the COVID-19 pandemic, dissolution of co-ownership, prisoners of war legal protection and status, inmates' treatment in penal institutions, corrective measures in the juvenile criminal sanctions system, to creation and development of positive obligations of STSTES signatories of the European Convention for the Protection of Human Rights and Fundamental Freedoms.
The information about the journal, instructions for authors and reviewers, editorial board members, and reviewers' names and affiliations are available on the journal website in Serbian and English. The articles may be submitted via the journal web page http://civitas. rs/index.php/prijava-rada or via email to redakcija@civitas.rs
On behalf of the Editorial board, I wish to thank all the authors for the high standard of the articles that follow.
Hoping that this issue will inspire further research, we invite all interested researchers to submit their articles for publication in CIVITAS.
Until next issue,
Professor Vladimir Njegomir
Novi Sad, 10. December 2022
Miljana Pavićević, Jelena Davidović Rakić, Tijana Živković - PERSONALITY TRAITS AND PERFECTIONISM AS PREDICTORS OF ATTITUDES TOWARDS ORGANISATIONAL CHANGES
Peđa Miladinović - MEDIATING EFFECTS OF DISPOSITIONAL MINDFULNESS ON THE RELATIONSHIP BETWEEN NEUROTICISM, CONSCIENTIOUSNESS AND WORRIES, TENSION AND LACK OF JOY
Vladimir Njegomir, Dragan Stojić - ECONOMIC EFFICIENCY OF INSURANCE COMPANIES: CROSS-COUNTRY COMPARISON OF PRODUCTIVITY GROWTH
Zoran Vavan - WORK OUTSIDE THE EMPLOYER'S PREMISES: A RECENT FORM OF EMPLOYMENT
Tamara Gajinov - PROPERTY RIGHTS RESTRICTIONS IN THE CONTEXT OF THE COVID-19 PANDEMIC
Ćosović Mehdija, Petrović-Ranđelović Marija, Radukić Snežana - PUBLIC DEBT. SUSTAINABILITY CHALLENGES IN THE REPUBLIC OF SERBIA DURING THE COVID-19 PANDEMIC
Jovana Tomić - DISSOLUTION OF CO-OWNERSHIP IN SERBIAN LAW
Aleksandra Jovanović, Aneta Atanasovska Cvetković - LEGAL PROTECTION OF PRISONERS OF WAR: A HISTORICAL OVERVIEW
Aco Bobić, Tatjana Skakavac, Dražen Erkić - EVALUATING THE TREATMENT OF CONVICTS IN PENAL INSTITUTIONS IN VOJVODINA: DATA ANALYSIS, CHALLENGES AND RECOMMENDATIONS
Božidar Arsić - INSTITUTIONAL CORRECTIVE MEASURES IN THE JUVENILE CRIMINAL SANCTIONS SYSTEM
Darija Martinov, Petar Teofilović - THE CREATION AND DEVELOPMENT OF POSITIVE OBLIGATIONS OF STSTES SIGNATORIES OF THE EUROPEAN CONVENTION FOR PROTECTION OF HUMAN RIGHTS AND FUNDAMENTAL FREEDOMS
  INVITATION AND INSTRUCTIONS TO AUTHORS:
INVITATION AND INSTRUCTIONS TO AUTHORS