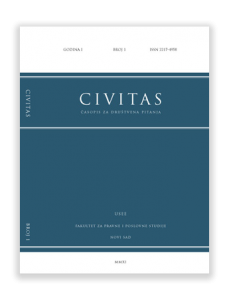 COBISS:
SR-ID 261516807
ISSN: 2217-4958
ISSN: 2466-5363 (on-line)
---
Dear Readers, Colleagues, and Authors,
Welcome to the second issue of the CIVITAS Journal for 2021.
Since 2011, the journal has published articles focusing on various current trends and topics related to law, security, psychology, philology, and economics, as well as interdisciplinary research involving the above fields.
In 2021, the journal was awarded the M51 ranking by the Serbian Ministry of Education, Science and Technological Development, and classified as a leading national journal.
The journal has been indexed in the ERIH PLUS academic journal index for the HSS (Humanities and Social Sciences) society in Europe, in CNKI (China National Knowledge Infrastructure), Ulrich's Periodicals Directory, J-Gate (Indian database for e-journal literature), and CEEOL (Central and Eastern Europe Online Library).
The articles accepted for publication deal with a variety of issues related to social sciences and humanities.
The current issue focuses on a wide range of interesting topics such as the proclivity towards infidelity, effects of perceived social support on loneliness, impact of the pandemic on economy, Business English competence among the staff in foreign-owned businesses, ecocriticism and eco-dystopia, correlation between social motivation and emotional competence, traditional and modern models of police work, Russian foreign policies, and the statute of limitations for damages claims in Serbian law.
The information about the journal, instructions for authors and reviewers, editorial board members, and reviewers' names and affiliations are available at the journal website in Serbian and English.
The articles may be submitted via the journal website http:// civitas.rs/index.php/prijava-rada or via email to redakcija@civitas.rs
Our sincere gratitude goes to all the authors for the high standard of the articles that follow.
We hope the current issue will stimulate further research and invite all interested researchers to submit their articles for publication in CIVITAS.
Until the next issue,
Professor Vladimir Njegomir
Novi Sad, 28 December 2021
Dunja Mraović, Nikola Borišev, Vesna Gojković - WHY PEOPLE COMMIT INFIDELITY? 'NOTHING PERSONAL' OR 'VERY PERSONAL:' MACHIAVELLIANISM AND SUBCLINICAL SADISM AS PREDICTORS OF INFIDELITY
Radojka Šolak, Jelka Dragičević - THE EFFECTS OF PERCEIVED SOCIAL SUPPORT ON LONELINESS
Vladimir Njegomir - THE IMPACT OF THE COVID-19 PANDEMIC ON THE ECONOMY
Milan Živković, Jana Drašković - THE LEVEL OF ENGLISH LANGUAGE COMPETENCE AMONG EMPLOYEES IN FOREIGN TRADING COMPANIES IN SERBIA
Ana Sentov - "SO OBVIOUS AND SO UNTHINKABLE": ECO-DYSTOPIA IN MARGARET ATWOOD'S MADDADDAM TRILOGY
Jelena Čolaković Lončar - SOCIAL MOTIVATION AND EMOTIONAL COMPETENCE IN STUDENTS
Svetlana Ristović - THE TRADITIONAL AND THE MODERN MODEL OF POLICE WORK IN THE SECURITY SECTOR
Nikola Rajić - RUSSIA'S NEO-IMPERIALIST AMBITIONS: ANALYSIS OF THE FOREIGN POLICY TOWARDS GEORGIA
Milica Z. Petrović - UNENFORCEABILITY OF CLAIMS FOR DAMAGES IN COURT PRACTICE
  INVITATION AND INSTRUCTIONS TO AUTHORS:
INVITATION AND INSTRUCTIONS TO AUTHORS